GUM® SONIC DAILY Battery Toothbrush
Designed for daily care, this brush delivers an extra deep, gentle clean to help keep your gums and teeth in good shape and leave you feeling fresh and clean day after day. 
Thanks to sonic vibrations that move bristles from side to side, this brush helps dislodge more plaque with little effort on your part. Its special head features soft, bi-level bristles with extra thin tips at one end that reach below the gum line and between the teeth for superior cleaning. Compared to a manual flat trim toothbrush, this brush offers 50% more efficacy in cleaning between the teeth and removes 47x more plaque below the gum line. Its vibrating head also massages gums. Sleek, light and compact, this sonic brush offers a delightful brushing experience for you and the whole family. For best results, we recommend using it with GUM ActiVital® toothpaste and mouthrinse
Award winning toothbrush[1] , previously known as GUM ActiVital Sonic, now available under new name GUM SONIC DAILY and in the new packaging format.
Product HIGHLIGHTS
Delivers an extra deep, gentle clean for the daily care of teeth and gums
Soft, bi-level, single tapered bristles offer 50% more efficacy in cleaning between teeth and remove 47x more plaque under the gum line[2]
Winner of 4 consumer awards in France, Italy, Poland and Spain[1]
Sleek, compact and cable-free
Up to 3 months of use with provided 1 AAA battery[3]
Toothbrush available in 2 colors: white and black 
Toothbrush cap and 3 color rings to personalize the brush included 
Replaceable head for less plastic waste
Compatible with refill heads of GUM SONIC DAILY and GUM ActiVital® SONIC, GUM SONIC SENSITIVE
A superior brushing experience
The GUM SONIC DAILY battery toothbrush delivers a superior cleaning experience, effectively and gently cleaning below the gum line and between the teeth. Light, compact, and sleek this brush looks great in your bathroom and can be used for the whole family, simply use the coloured rings to personalise them.
An extra deep, gentle clean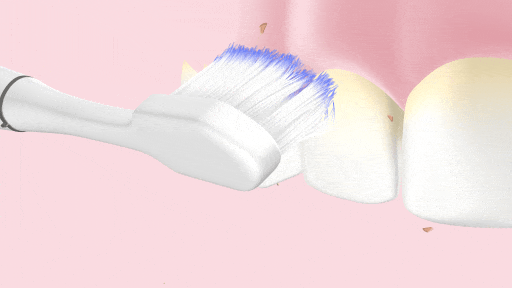 SONIC VIBRATIONS
Move bristles from side to side to dislodge more plaque.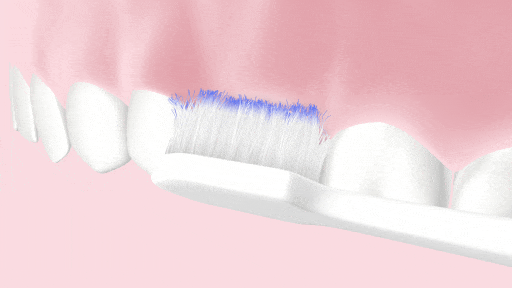 SOFT BRISTLES WITH EXTRA THIN TIPS 
are more effective in cleaning hard-to-reach areas where plaque tends to accumulate below the gum line and in tight spaces. If left uncleaned, plaque build-up can lead to bad breath and other oral health challenges.
Award-winning, elegant and practical
WINNER OF 4 AWARDS
Loved by consumers in France, Italy, Poland and Spain[1]
LONG-LASTING BATTERY LIFE 
Up to 3 months of use with 1 AAA provided battery[3]
PERSONALISATION
Comes with coloured rings so you can customise your brush.
COMPACT, CABLE-FREE AND PORTABLE
The ideal brush to use at home and when travelling.
Instructions for use
HOW TO REPLACE THE BRUSH HEAD                                                                         
Holding base, pull off head. Place new head on base and push down. Replace only with GUM® SONIC refill heads.
HOW TO REPLACE THE BATTERY                                                                                 
Turn base and pull down handle base. Replace with one new AAA alkaline battery only. When replacing battery, follow symbols on the bottom part for correct positioning. Close the container and dispose the battery according to local regulations.
HOW TO CHANGE COLOR RING                                                                                   
1. Remove the brush head. 2. Remove the current silver ring by lifting it up. 3. Select a new ring in your favourite colour and slide it on the handle. Make sure the ring is placed correctly on the handle (see images) and there is no space between parts. 4. Place the head on base and push down.
HOW TO USE                                                                                                                     
Apply a small amount of toothpaste on the brush head. Insert the brush head inside the mouth. Turn on the brush pressing at the upper central button. Use the same brushing technique as with a manual toothbrush without applying any additional force.
HOW TO CLEAN                                                                                                           
Turn off the brush. Rinse brush head with water after brushing. It is recommended to change the brush head every 3 months.
WARNING                                                                                                                           
Keep reach out of children. Choking hazard. Small parts. Not for children under 3 years. For children 3 years and older, use under adult supervision only.
1. Clean between your teeth / 2. Brush / 3. Rinse
[1] Consumer awards won in France (Les Victoires de la Beauté 2018-2019), Italy (Prodotto dell'anno 2019), Poland (Influencer's Top 2019) and Spain (Producto del Año 2020).
[2] vs a manual flat trim toothbrush.
[3] based on a 2-min brushing session twice per day
Find out how to brush your teeth properly