Interdentals
Is interdental cleaning really for everyone? Yes, it allows you to clean where your toothbrush can't. While toothbrushing is essential, studies have demonstrated that a toothbrush only removes a portion of plaque. All the food and plaque hidden between your teeth is left untouched and can be the source of bad breath and many oral health challenges. For complete self-care and an extra fresh clean feeling all day long, keep an interdental brush handy next to your toothbrush and regularly clean between your teeth.
Feeling hesitant? We get it. Perhaps you find flossing difficult or you're anxious brushing between your teeth will upset your gums and teeth…This is where our interdental brushes come in: they help you gently and effectively clean where your toothbrush alone can't. 
GUM interdental brushes and rubber micro-brushes are the easy-to-use alternative to floss. They are all designed for gum and tooth comfort and ease of use. Their soft, ergonomic handles make them easy to guide around the mouth. They all have soft rubber heads or coated wire tips. Their extra gentle bristles deliver a pleasant, deeper clean. Some of them even massage your gums
If your gums are healthy or you're a novice at this, then we recommend you use GUM® SOFT-PICKS® ADVANCED. They're our most popular interdental because they are particularly ease to use. This rubber micro-brush is our most popular interdental because it is particularly easy to use. For an extra sensation, try our mint-flavoured option. Minty feeling guaranteed!
Comes in 3 sizes: S, M, L
If you have tender, bleeding gums or are wearing braces, we recommend using a GUM TRAV-LER® and pick the perfect size & fit. If this tool seems like a stretch to you, you can start with GUM SOFT-PICKS ADVANCED or our mint-flavoured rubber microbrush. We do recommend you speak to a dentist about your discomfort soon. 
Comes in 8 sizes: ISO 0-7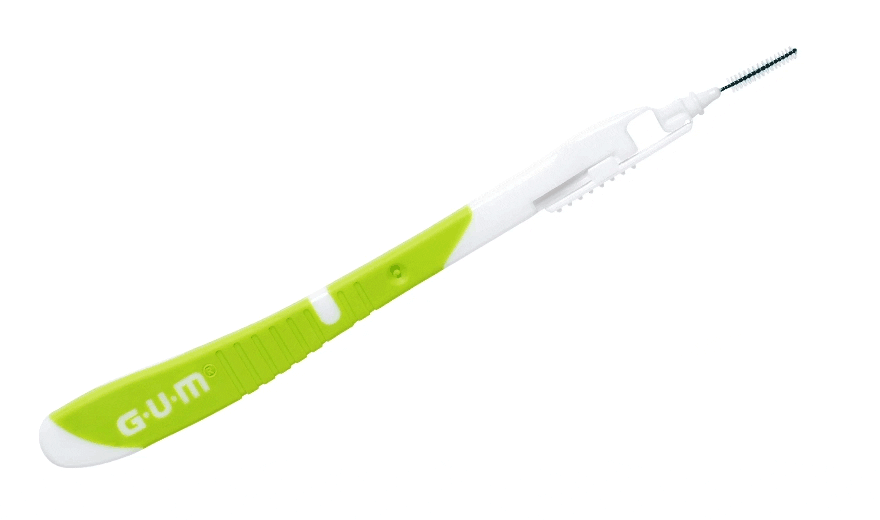 If you're faced with gum discomfort, have implants or bridges or simply have difficulty using small tools, we recommend you try GUM BI-DIRECTION. This interdental brush has two positions at choice and an extra long handle to help you easily reach your back teeth. 
Comes in 5 sizes: ISO 0-4